While once a bustling and life filled trade hub of the Kingdom of Lordaeron, the township of Brill has since fallen into decay with the Plague of Undeath. Though taken by the Forsaken and repopulated after they broke free from the Scourge, the town was razed by the Alliance in the early stages of the Battle for Lordaeron at the beginning of the Blood War.
Geography
Sitting in the central plains and hills of the Tirisfal Glades, Brill was the main center of trade in the region, as any who wished to do business in Capital City had to pass through the roads of Brill.
History
The Third War
Brill was once a small town within the human kingdom of Lordaeron. It was one of the earliest towns to become afflicted with the Plague of Undeath that would eventually cripple the northern lands. It was at Brill that the necromancer Kel'Thuzad, still a living man, first started his experiments with the Plague that would come to be the demise of the kingdom of Lordaeron. The success of the infestation was such that it allowed Kel'Thuzad to convince the Lich King to launch the invasion even before it was planned. The mass graveyard just outside of Brill was made to accommodate the large number of deaths Tirisfal suffered when the Plague first came. The town's Regional Defenders were unable to save the villagers and eventually the defense force was pushed out of Brill. There, they joined Prince Arthas during his mission to investigate and uncover the source of the Plague.
Following the weakening of the Lich King due to the spell cast by Illidan, Sylvanas's rebel Forsaken were able to quickly assume control of the town, along with numerous other sites in Tirisfal Glades.
For the next several years the citizens of Brill fought daily to preserve their freedom against their enemies.
Forsaken Cultural Shift and Refortification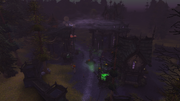 After the Cataclysm, Brill was reinforced and turned into a major center for military operations by order of Sylvanas Windrunner. The small township was transformed and changed from a simple town to a walled in fortress, with the buildings being redesigned to fit a new Forsaken-esque architecture.
Destruction
In the opening months of the Blood War, the town was captured and razed by the Grand Alliance on their campaign to siege down Capital City in the Battle for Lordaeron. With Sylvanas releasing a massive amount of blight into the central plains of Tirisfal, the town was abandoned by both the Alliance and Horde.
Gallery
Notes