The Triumvirate



Coat of Arms:

The crest of the Duchy.

Organizational Type:

Political

Political Head:

Duke Berenal Grayblade

Title:

Duke of the Ashen Coast

Regional Speakers:

Meeting Location:

Haverin's Court, Wolfstone Castle

Founders:

Status:

Active

Purpose

Voiced governance of the respective regions of the Duchy.

The Court of the Coast (Formerly known as the Triumvirate of the Ashen Coast) is the current court of nobles within the Duchy of the Ashen Coast. While the Duke holds primary power within the region, the Trimvirate acts as an administrative body for which the lords of the land can voice their concerns and advise the Duke on matters important to the nobility.
The Triumvirate was originally founded by Marcher Lord Haverin Grayblade of the Bite, Earl Xavier Gregor of the Range, and Earl Cail Greyfield of the Reach. During their time, the three lords sat without their vassals, acting as a make shift form of unity for the Ashen Coast. With the advent of the Duchy having unified the whole of the Ashen Coast, the Triumvirate now serves as a larger body for all nobility.
As the Duchy consorts with several nobles outside of the Duchy at large, the Triumvirate offers them a room to also open deals with the lords of the council. These visitor lords, typically affiliated through the Blades of Greymane, do not hold voting positions in the council. They are given time to speak and even offer counsel on the matter, but they cannot decide the fate of an issue (outside of extreme circumstances).
Organization
Edit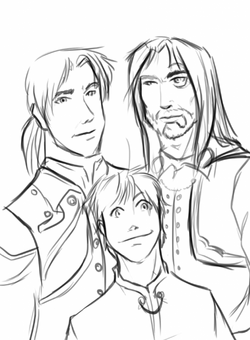 To better organize the structure of the nobility, the Triumvirate has been organized into the regions of importance and by their speaker lords. The structure allows for each lord to voice concerns on matters to their fiefs, while the Speaker Lords voice the concerns of larger topics for the area as a whole. Each lord is given one vote on matters discussed that address the Duchy as a whole, while Speaker Lords are given two. (One for their own personal fiefs, one for their region).
Primary Regions
Edit
The Range
Edit
The Reach
Edit
Fallow Crest
Edit
Subsidiaries
Edit
Rignweald
Edit
Community content is available under
CC-BY-SA
unless otherwise noted.