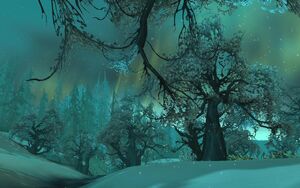 Dragonblight is a snow-dunned region in which lies colossal dragon skeletons. It is one of the more populated regions of Northrend and housed an array of different species including Tuskar, Kvaldir Vrykuls, Humans and even Dragons, whose remains litter the area and thus, gift it's name.
Dragonblight is also the home for the Alliance Special Force's unit known as the Seventh Legion, and it's Horde counterpart, the Kor'Kron. It is unknown whether either forces still hold an active presence in Dragonblight.
Many believe that Dragonblight is also the central graveyard for dragons, given the numerous skeletons found throughout the snow.