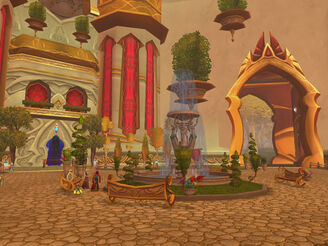 Falconwing Square is a district located in the southeastern corner of the Ruins of Silvermoon, connecting to Dawning Lane, Skulking Row and Feth's Way. It is the only portion of the ruins that has been reclaimed. The local Falconwing Inn has been restored, offering its hospitality to travellers. From here, the Blood Elves attempt to retake the remaining portions of the ruins from the Wretched that infest it.
Falconwing Square is the primary point of contact between the main Eversong Woods and Sunstrider Isle.
Community content is available under
CC-BY-SA
unless otherwise noted.