A Small tavern in Boralus run By Ellie "El" Lynn, her fiancée, Dari Lynn, her adoptive mother, Vye Brambilla-Morningstar, and her adoptive father, Jacinto Morningstar.
Coordinates: Boralus (55,17)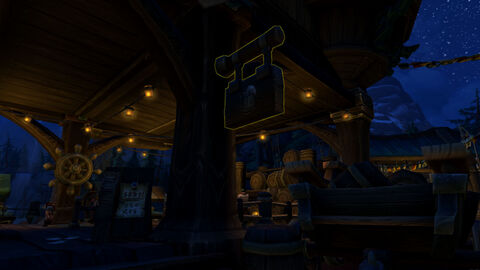 Description
The sign hanging outside the tavern would have a crude painting of an Half-elf man's face. His hair long and dark with a full beard and mustache. Underneath the man's smiling face was painted the words "Jacinto's Bar and Grill".
The barstools would be small barrels. The tables and chairs would also be barrels of various sizes, the chair barrels crafted into the shape of a normal chair for comfort. Only 2 longer tables were normal styles, one without seating and the other with a plank of wood on one side and little barrel stools on the other.
On one of the pillars was a massive ship helm, one of the only things from the old tavern. On the wall behind the bar was a small menu with 7 drinks and 7 foods listed. Along the back wall of the bar was several kegs of various drinks as well as a barrel shaped grill and fridge, above such was a taxidermized troll head, under which a bone carved dagger rested on a rack. [Trollbone Dagger]- A dagger that's been hand-carved from a troll femur. Half the length is serrated, and an inscription runs the length of the blade. "So there can be no question who won in the end."-CF.
On the opposite "wall" was a large set of spare kegs lined up on a rack. The boats along the side of the bar were empty for now but bobbed gracefully in the water. Several pictures of Tirsfal prior to Arthas, and Boralus were hung on the walls and pillars. A little photo of El and Dari hung on the pillar connecting to the bar. On top of the bar next to the pillar was a small, blue box drawn in blue paint with the words "Dari's Favorite Spot" inscribed there. On the corner of the bar, a similar blue square was painted, with the words "El's favorite spot" inscribed.
Menu
Alcoholic Drinks:
1. Sweet Drink (Hearthglen Ambrosia)- 7g
2. Dari Drink (Lordaeron Lambic)- 7g
3. Pirate Drink (Rumsey Rum Black Label)- 7g
4. Winter Berry (Snowberry Berliner)- 7g
5. Little Big Man Drink(Skin of Dwarven Stout)- 7g
6. Panda Juice (Pandaren Plum Wine)- 7g
7. Fire drink (Pinchwhistle "Nitro Fuel")- 7g
Specialty Drinks:
Recoil's Recoil- Darkmoon Special Reserve, Iced Berry Slush, Badlands Burbon, Dalaran Noir- 15g
Non Alcoholic Drinks:
1. Ice cold Milk- 3g
2. Bone Apple Tea- 3g
3. Major's Frothy Coffee- 3g
4. Refreshing Spring Water- 0g

Food:
1. Sailor's Pie- (slice) 3g, (whole) 5g
2. Skewered Peanut Chicken- 8g
3. Twin Fish Platter- 10g
4. Swamp Fish 'n Chips- 10g
5. Seasoned Wolf Kabob- 10g
6. Mon'Dazi- 5g
7. Seasoned Steak and Potatoes- 15g
8. Darkpit Mushroom Burger- 5g