Ilifar



Race

Occupations

"Pet" of Archmage Allistarj

Age

Unknown

Place of Birth

Affiliations

Status

Deceased

Kirith the Damned was a horrific, twisted beast wrought forth by the ghastly experiments of Ilifar and Archmage Allistarj. Prior to his destruction by adventurers, Allistarj relished in feeding innocents to the monstrosity.
Lore
When the Fallen Hero of the Horde moved in the Blasted Lands to investigate the area under the command of the Horde, he was uncertain on what to do when he discovered the area was mostly controlled by a demon and his minions. His courier back to the horde was killed, and without any additional advice or commands he made several bad decisions that got him and his men captured or slaughtered.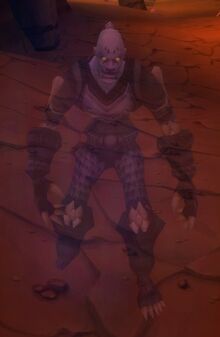 Him and his Lieutenant-General, Kirith, were tortured by Archmage Allistarj and their souls were used for experiments. Kirith died during the torture to only have his soul be twisted in to some sort of beast, the Fallen Hero of the Horde escaped his tormentors only to die.
The spirit of the Fallen Hero urged adventurers to end Kirith's suffering, which ultimately allowed the Lieutenant to find peace in death.