Jurassic World: Dominion Dominates Fandom Wikis - The Loop
Play Sound
Lakeshire



Leader

Magistrate Solomon

Location

Western Redridge

Affiliation

Status

Healthy

Lakeshire is a small town within the Kingdom of Stormwind. It is located in the west of the Redridge Mountains, along the banks of it's namesake, Lake Everstill, a large lake that compasses much of Redridge, and is ruled by Magistrate Solomon. It is a rather quiet and peaceful place, with a few occasionnal orc and gnoll attacks, but remains rather untouched by the events of the world.
Like Westfall and Duskwood, it is theoretically protected by the Stormwind Army (Thanks to the efforts of Lady Katrana Prestor), with only a small guard platoon residing within the town for several years. Recently however, Stonewatch Keep was retaken and is almost compleatly repaired, while to the south, the Three Corners Garrison was constructed, bolstering the region's military presence.
History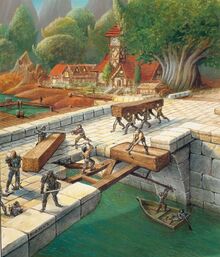 The Lakeshire bridge, damaged during a Blackrock raid, was finally repaired not long after the War against the Lich King ended. The local foreman, Oslow, has voiced his ambition to build what he calls the "Lakeshire Super Bridge", a bridge meant to cross the entiety of the lenght of Lake Everstill, although many were skeptical to his chances of compleating it in less than a decade.