| | | |
| --- | --- | --- |
| " | Because it's the right thing to do. | " |
Lavernius Jur

Lavernius Jur, during the adventures into the Shadowlands. Art by J.B. Van Harmontt

Title

Exile
Ambassador
Maw Walker

Gender

Male

Race

Kaldorei

Class

Druid

Affiliation(s)

---

Former affiliation(s)

Occupation(s)

Unknown

Former occupation(s)

Ambassador between the Alliance and Horde


Relative(s)

Unknown

Mentor(s)

Status

Alive
Lavernius Jur is a druid, an Exile of the kaldorei people, and former ambassador between the Alliance and Horde.
Cast out from his own people for a terrible mistake, he was then discovered by the Alliance survivors during the Third War and acted as mediator between the Alliance, Horde, and kaldorei while they did battle against the Burning Legion. Seeing their unity in the face of overwhelming adversity inspired him to become an ambassador in order to unite both factions and improve their world.
Throughout the years and different conflicts, Jur has risen to the highest ranks, earning the respect of those on both factions in his quest to protect Azeroth and all its people as well as keep the peace between them. Having faced adversity from his own as well as the threat of demonic, undead, and Old God invasions, the druid has proven his dedication to his position and his cause, willing to put his life on the line if necessary. He has crossed paths with many groups, mutual parties cooperating reluctantly, out of necessity, or eagerly. Regardless, he knew how to get results.
Though, the events of the Fourth War have shaken his faith in peace between the factions to its core. After the defeat of N'Zoth, Jur struggled with a crisis of faith that ultimately culminated in him quitting his job and losing faith in the very people he once saved. Now, he has returned and ventured into the Shadowlands to aid in halting the villainous Jailer from unraveling the cycle of life and death.
Biography
This section has been condensed for reader convenience and to make navigation easier, as it is rather excessively long.
Personality
In terms of personality, Jur has changed significantly over the course of his life and tenure as ambassador.
As a child, he was initially shy around strangers but was quick to warm up to people. He possessed a wide-eyed and bushy-tailed nature that was rather infectious. However, he always possessed a fear of crying, embarrassed to be seen in such a state. This caused him to repress negative emotions in favor of positive expression. Things shifted when he entered his teenage years, becoming angsty, desiring independence, and shouldering an Oedipus complex with Malfurion and Tyrande. His actions during the War of the Ancients really shook him to his core, instilling a great sense of guilt and responsibility for what happened. The decision to exile him also greatly severed his bond between his perceived parental figures, generating feelings of heartache, betrayal, anger, and a lack of identity.
Upon reawakening to the world ten thousand years later, Jur was rather distant and nervous despite his desire to befriend others and form connections. On account of his past actions, the druid didn't feel reserving of such connections. However, he was motivated by a strong sense of justice and a desire to atone for his past failures which prompted him to push through his anxiety and fear. Overcoming his anxiety allowed him to be more expressive, warm, and articulate with those he cared about. He was a very warm person with a bleeding heart and a curious nature, with the new Azeroth giving him much to study. If he had no one to speak to, he would simply speak aloud to help examine his thoughts and situation. This fueled his desire to become an ambassador, combined with how successful the Alliance and Horde had been together at Hyjal. In his younger days in training, he was significantly more idealistic and not at all jaded by the constant warring. Though he did possess a skittishness around densely populated kaldorei areas on account of his exile. The fear of retaliation for his past kept him at arm's length, but he greatly wished to be accepted by his people and have kaldorei and druid friends to relate to.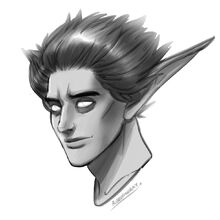 After his near-death experience with Deathwing, he began to shift in personality. His lack of a real family and sense of loneliness from being an exile had instilled the desire to be a father. Second to his job was his urge to have a family and be the father he never had. Having that robbed from him shook him to his core, becoming the personality most people were familiar with. He appeared quite cold and distant, now feeling much more isolated from his future beign stolen. The druid also became much more introverted, preferring solitude and being outright silent if not spoken to. Once he opened up, one would bare witness to a man of great emotional range and passion. Jur was more expressive and casual than most kaldorei, this vibrancy visible in snippets when he was immersed in his work or something got him started. When Jur was comfortable in expressing himself, he felt great emotion. Happiness was a soaring high, heartbreak was gutwrenching, and anger was infuriating. He could leap to the emotional extremes when at his limit, fueled by his waning mental stability and lack of self-care.
Despite this, he still kept close friends at some degree of arm's length, afraid of revealing what was beneath. The druid had grown increasingly depressed, lost self-confidence, and fostered feelings of suicide, which grew over the course of his life. This also manifested in a newfound bitterness towards the kaldorei, a combination of separation anxiety and projection. The druid adopted colloquialisms, speech patterns, and lingo from Gilneans, goblins, Stormwind residents, and dwarves to help distance himself culturally from other kaldorei. This resentment grew into slight paranoia, suspecting other kaldorei as having it out for him. Even this was not so cut and dry, as he went back and forth on wanting acceptance and wanting nothing to do with them, between bitterness, apathy, and fear. His hypocrisy was not lost on him, and it troubled him deeply, furthering his anxiety. All of these feelings were bottled up and kept away from the public eye, a notion that he encourages others not to follow. Hypocritical as it was, he only wished for others not to turn out like himself.
His personality would become shaken even further with the bombing of Theramore, planting the seed of doubt between possible peace. People that made him angry or irritated, he was much shorter and dryer with. The chain of command and obsession with status quos were a bore to him. Though Jur might care much for justice and order, he was no stranger to having to bend the rules for the greater good. Although, he was not a big fan of such acts. Despite this, he was ultimately a peacemaker and wished to keep everyone as friends and equals. He tested his patience more and more as things went on. While very forgiving, accepting, and patient, he was no stranger to getting physical when needed. After the Siege of Orgrimmar, Jur felt his spirits begin to life and felt new opportunities for everyone on the horizon. However, he grew depressed and lost after being lost at sea and returning to find his guild the Masquerade abandoned. The druid threw himself into fighting the Iron Horde, using work as a means to distract himself.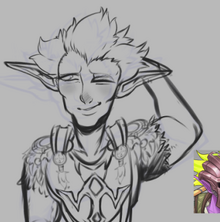 Jur had become more of a workaholic as his career had gone on, his social life having become all but nonexistent during the war against the Iron Horde. As such, he had difficulty socializing with others outside of work related purposes. This was made evident with his relationships with women. When it came to the opposite sex, Jur would rather fight monsters, demons, or bandits than have to talk to women. He had difficulty reading romantic cues, no matter how obvious, but flushes when he picks up a sexual euphemism or double entendre. Not having a positive image about his body, he felt even more intimidated by women and inferior to other men. Yet, if a woman showed any interest in him, he would turn into a blushing gooey mesh. One flutter of her eyelashes in his direction, and he would be putty in her hands, loyal and ready to please her. His relationship with Saiyuri and interest and Celestria Moondawn had been stepping stones for his development, but he wouldn't enter a real legitimate relationship until he met Sanaera Dawnheart. The druid was truly in love with her, a far cry from the puppy love and rather childish relationship he harbored with Saiyuri. Though his exile status and inability to foster children did keep some barriers up with her. Despite this, he was dedicated to her and put his own life on the line multiple times for her. Both of them were strong-willed, stubborn, and harboring their own internal issues they kept secret from one another.
During the campaign in Draenor, Jur finally settled on how to approach conflict. He channeled raw fury and righteousness to push down those that seek to harm others. Going as far as to put his life on the line for whatever cause to protect others, his dedication knew no bounds. Jur could forgive many things, at times be too forgiving. But when his patience is tested, the crimes too great, and the betrayals too many, his enemies felt his wrath. The Exile horribly mutilated his assailtants when greatly angered. Though if his enemies surrender or were found deserving, he could show mercy and even heal the wounds inflicted. Jur may tear and bite, but he didn't do damage he either couldn't or wouldn't heal.
The Burning of Teldrassil had proven to be the real tipping point for Jur's mental state. He felt absolutely broken and betrayed by the Horde he had stuck his neck out for tirelessly after Theramore. In that moment, they could no longer truly be redeemed, and he did not believe peace between them was possible anymore. His faith in the Alliance withered away with their refusal to fix their own mistakes, their eagerness for bloodshed, the botched handling of defending Teldrassil and assaulting Dazar'alor, and their callous brushing off of Tyrande and subsequently the kaldorei victims. What had started as a career path to serve the populace had now become a great disdain for authority and the military over the years, feeling them both as nothing more than exploitative of the poor and a hive for habitual violence and hatred. He hated the Alliance and Horde more than anything now and just wanted to retire, to get away with Sanaera. The coming war between the Alliance and Horde as well as the repeated mistakes of the past have only made Jur's emotional state worse, his mental stability showing severe cracks and allowing for volatile outbursts to break through. Finally quitting his job had been an absolutely cathartic experience, freeing himself to be solely about his lover. However, Sanaera's sudden departure had utterly broken him, and the druid's subsequent failure to find her had him believing he had nothing anymore. In that moment, he just broke and fell down a deep rabbit hole that led to his abuse and exploitation. Only after hitting rock bottom was he able to get a grip and work towards stability again. With no job and no one to care for, he could focus on building and rediscovering himself, obtain that lost interest in hobbies and a personal life again. It ultimately seemed to work as he felt so free.
What ultimately remained unchanged for Jur is his interest in the world and altruism. In terms of knowledge, Jur enjoys learning at any opportunity, about the other cultures of Azeroth and beyond. He holdsa burning curiosity for religion, philosophy, cooking, language, sewing, and archaeology. His inquisitive nature causes him to mutter to himself with excitement, and if there was an opportunity for him to learn, he would take it even with no practical usage for it. Jur is self-sacrificing to a fault, caring whether or not his life is in danger. The druid would go through hell and back to protect the innocent, even the kaldorei, willing to sacrifice his own life to protect others out of a combination of duty, altruism, and a potential means of escape. Since his days in Draenor, death had no sway over him and thus was not a deterrent. Even among lovers and friends was he not afraid to die, content in the knowledge that he could at least protect her.
Appearance
With his mix of long floppy ears, raggedy flag cloak, and shaggy wild green hair, Jur tends to stand out. His outfit changes over the course of each expansion, with only a couple of recurring trends. The Flag of a United Azeroth is the one item that has remained in his possession since the end of the Second War of the Shifting Sands. Since his early days of training, he had possessed a wooden staff with a handcrafted bear paw with fur wrapped around it and a painted moonkin headdress with dyed feathers he had plucked as part of a ritual. Though he still possesses them, he has put his staff away in a private collection and stores the headdress in his satchel to favor better gear.
In terms of animal forms, Jur really varies in appearance from others. His outward appearances influences the way his forms appear. The bear form has a shaggy green mane running along its back with rich purple fur cloaking body save for his glowing amber eyes. The cat form has a shaggier green mane wrapping his neck, with green stripes lining his purple fur. Long sabered teeth sit in his mouth, as sharp as his glowing amber eyes. His flight form is a purple shaggy bird similar in appearance to a dread raven, with green tips and stripes along the tips. His amber eyes glow fiercely as he flies over the land. The tree of life form is elven in appearance to the traditional treant form, with large feet and claws with leaf pauldrons. His werebear form is a hulking beast with enormous forearms and fists, burning amber eyes, purple fur, and a shaggy mane.
Literary Works
Below is an ongoing list of stories surrounding and/or involving Lavernius Jur.
Trivia
Jur's voice reference is Kyle MacLachlan, from Marvel's Agents of SHIELD, Dune, Portlandia, Twin Peaks, and Inside Out.
Jur has his own unique fighting style, favoring pragmatism over elegance. He has studied both the druidic arts and physical combat in order to not be solely dependent on magic, interweaving the two style. Jur is predominantly self-taught in both combat and magic, having had to relearn a lot after being in stasis for ten thousand years but retaining some degree of knowledge. The druid prides himself on his independence and style - a mix of martial arts styles learned from studying under Illidan, Master Bruised Paw, and his own techniques. It lacks the grace of either, and it would not equate him to their level of expertise. Yet, the druid could ultimately hold his own in a pinch.
Jur speaks every major language used within the Alliance and Horde as well as others outside the traditional faction vocabulary, such as Draconic, Ravenspeech, Tuskarr, Nazja, Ursine, and various animals. He is also fairly adept in sign language.
Jur's characterization borrows inspiration from many characters such as Steve Rogers, Commander Shepard, Agents of SHIELD's Calvin Zabo, Obi-Wan Kenobi, Peter Parker, and the Eighth, Ninth, and Eleventh Doctors.

With Jur drawing inspiration from Shepard and Steve and with Tar drawing his from Garrus Vakarian and Sam Wilson, the two share similar character dynamics to the aforementioned.

Jur's appearance borrows aspects from Captain America and Ulysses from Fallout: New Vegas.
The character aspect of being an exile was inspired by Meetra Surik of Star Wars: Knights of the Old Republic 2 - The Sith Lords.
Inside the stasis of the emerald, his physical and mental aging having slowed significantly. Chronologically, he is more than ten thousand years old but has no idea how old exactly he is other than that he is fairly young. And with no existing records of his birth and parentage, it is unsure if he'll ever truly know.
Below is a list of artists that have done artworks of Jur, both gift art and commissions.
Gallery