Welcome to the Moon Guard Wiki! This website is a resource for the player community of Moon Guard server, a Role-Playing PvE (RP-PvE) server in the MMORPG, World of Warcraft. This wiki is used for storing information regarding characters, guilds, locations, art, and player-written stories, as well as acting as an information hub for the ever-changing Moon Guard server community. It is the intention of this wiki to assist role-players and promote the accountability gained by archiving the documentation and history of role-play on Moon Guard for future reference. This wiki by no means being an authoritative guide to the server, so we encourage you to role-play on Moon Guard to see what the community is like yourself!
Feel free to contribute your own fanon or character information to this wiki. It is our hope that this wiki will help preserve and promote the role-playing community on Moon Guard through providing a neutral environment where all can add their own piece of the story without prejudice. Have fun!
~ The Wiki Administrators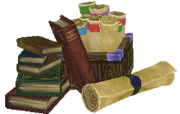 Feel free to join us and contribute to this wiki. Everyone is free to create a new page or edit any existing one. Questions about wiki editing should be directed towards the administrators.
New to wikis? Check out our Getting Started tutorial or the Help Articles!
Not sure where to start? Our Categories always need expansion!
Spotted some vandalism? Report it to the administrators.

Yeah, that's all it is really. This is a test to see if I can get something for homepage news working through blogposts. If this works, you'll be abl…

Read more >

All images and content owned by their respective holders. The Moon Guard Wiki Project, its respective administrators assume no liability for copyrighted content. All content use assumed covered by fair use or otherwise used with permission. Contact the Wiki Administrators via email with questions, concerns or complaints.



Zevrad Stargazer




Zevrad Stargazer is the fusion of both a Demon and a Kaldorei / Night Elf male who joined the ranks of the Illidari / Demon Hunters and became one of their Slayers. A title bestowed to an Illidari with high prestige whose goals were to see the safety of Azeroth and the destruction of the Burning Legion. However, was this so?
The Demon Gan'arg, Mal'akor, had taken control over the Night Elf's body along with his role and memories. No one knows what had become of the Night Elf's soul other than Mal'akor but, if one looked closely, a hint of his essence still lingers inside.
Read More...



274,626 Edits


10,606 Articles
61,360 Pages


27,222 Files




What was your favorite World of Warcraft expansion?