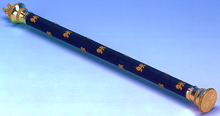 Marshal is a senior rank within the Alliance Military awarded to member races of the Alliance who have attained extraordinary military achievement. Marshals are responsible for serving as first-line advisors to the King of Stormwind and other Alliance leaders. Marshals may command a force of several thousand men, or they may be responsible for leading a town's military defense. Generally, they are distinguished from other commanding officers by the golden batons they carry.
Marshals who continue their military career are sometimes eligible to become Lords Marshal, Field Marshals, and Grand Marshals, who themselves command entire theatres of war. Lord Marshal, a position within the structure of the Alliance Military which may be temporary or permanent, is often charged with the command of several Marshals and other officers in times of war; the Field Marshal retains some level of direct involvement in the battle; and the Grand Marshal typically is removed from combat and serves an advisory or tactical leadership role, but there are many exceptions to this rule.
It is important to note that while many Marshals are members of the Stormwind Peerage, it is not always required of a Marshal to originate from noble birth. Non-human Marshals were once rare in the Grand Alliance, but are becoming more prevalent as Stormwind City continues to develop into a multi-cultural metropolis.
Marshals of the Alliance may attain their rank through Stormwind's military, or any Alliance military recognized as an official branch of the Grand Alliance.
Marshals of the Alliance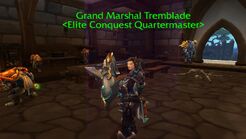 The following Marshals of the Alliance, both active and former are organized in the following order:
Grand Marshal
Field Marshal
Marshal
Current
Grand Marshal
Field Marshal
High Marshal
Lord Marshal
Marshal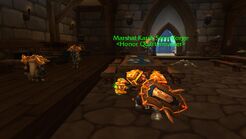 Former
Grand Marshal
High Marshal
Twinbraid

(High Marshal of Lion's Landing, Alliance Army, deceased.)
Field Marshal
Lord Marshal
Marshal