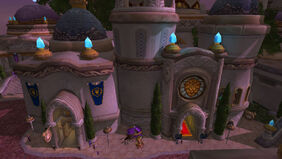 This page is no longer considered time-accurate, as the region has since changed. It is kept for the sake of history, rather than current use. For the district in its current state, see Greyfang Enclave.
The Silver Enclave was the south-western district of Dalaran. It seated between the Eventide District and the Violet Citadel. It was most known for being the headquaters of the Silver Covenant. The Silver Enclave district was home to several organizations including the Magus Senate of Dalaran's Ministry of War and Battle-Mage Corps. Much of the military leadership of Dalaran had offices in the Silver Enclave. The Silver Covenant also opened a trading house in the Enclave to better facilitate the trading of war materials between the various factions that work there.
Following the Legion's return to Azeroth, the Silver Covenant guardians have been replaced by Gilnean forces and the district was repurposed into the Greyfang Enclave.
A Hero's Welcome
A Hero's Welcome is the large tavern operating out of the Silver Enclave District. It is favored among Alliance visitors to the city and is known for it's excellent stews and chowders. Visiting Alliance military personnel often stay at A Hero's Welcome to be close to the Enclave. The tavern is run by the High Elf, Isirami Fairwind. Ms Fairwind employs several people including a assistant innkeeper, two chefs, four barmaids, one guard, and one bartender. A Hero's Welcome keeps a large supply of Flamewine in its cellar. Famed chef, Katherine Lee works out of the tavern's kitchen.
The Beer Garden
The Beer Garden in the back of the tavern is perhaps the most famous beer garden outside of Khaz'Modan. The garden can seat dozens of people and is staffed by two Dwarvish Brewmaidens. The garden is most busy during Brewfest as it is the location of Dalaran's celebrations. A Guardian mage is always on hand should any patrons get out of order.
Military Complex
The Military Complex is the largest building in the Silver Enclave district. The Military Complex is connected to the tavern near the Enclave Tower. The complex was built around a courtyard that serves as a meeting place for military personnel and houses some of the portals used to exit the city. The front part of the complex houses several offices, the trading post, and the Enclave Tower. The tower is popular among tourists as it is public space, free to enter, and has a good obersvation deck with a commanding view of the city. The large domed building on the south end of the courtyard is the headquarters for the Dalaran Military. Inside is restricted to authorized personnel only.