Valiance Keep
is a major
Military
and
Naval
base within the
Borean Tundra
. The Keep serves as a host for the armies of the Alliance in Northerend, known as the
Valiance Expedition
, as well as the Head Quarters for the
Auxiliary Expedition Fleet
. Along with
Valgarde
, the area is one of two ports for the Alliance in Northrend.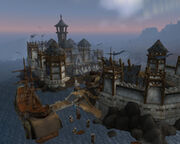 In the early parts of the War against the Lich King, members of the Cult of the Damned managed to infiltrate the Keep, posing as fishermen, cooks and even as General Arlos' own advisor. Several of them snuck on the Stormbreaker docked between the two halves of the Keep.
Community content is available under
CC-BY-SA
unless otherwise noted.