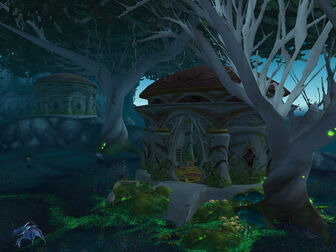 Windrunner Village is a ruined Thalassian settlement on the western coast of the Ghostlands overlooked by the Windrunner Spire, home to the renowned Windrunner family. Conquered by the Scourge during the Third War, the village was occupied by gargoyles and shades following the fall of Silvermoon. The Scourge's hold on the village was broken during the early stages of the War in Outland when Sin'dorei forces under the command of Arcanist Vandril attacked the town and cleared it of undead presence.
Community content is available under
CC-BY-SA
unless otherwise noted.